Click here for the Press Release - the symposium was led by Villanova University (Philadelphia) and hosted by the Princess Grace Irish Library.
The idea that the Irish possess a natural disposition towards creativity is a long standing and durable one. Indeed, it might be argued that Matthew Arnold's nineteenth-century conception of "Celtic Genius" still has traction today, as recognition of Ireland's artistic prowess grants the island cultural status disproportionate to its size, economic, or geopolitical power. How and why this image of an "artistic Ireland" developed, who and what it includes and excludes, and how it operates, are the central questions that this symposium seeks to address.
The aim of this symposium is therefore not to prove or reject specific narratives about Irish artistic achievement, but to find ways to engage and assess the scale and scope of this phenomenon. In order to explore the stories of Ireland's creative cultures, this symposium will bring together artists and scholars from a wide range of disciplines. Through discussion and debate we will ask how culture has been wielded politically, and to what extent narratives about artistic Ireland have emerged organically or been used instrumentally in Ireland's nation-building process. Of particular interest is the capacity of artistic cultures to adapt to the increasing heterogeneity of Irish society. With that in mind, participants will consider issues of diversity and inclusion, past and present, in the contexts of gender, sexuality, nationality, race and ethnicity, at home and abroad.
This project begins with open-ended questions posed to leading scholars across a range of disciplines. Villanova University's Center for Irish Studies will bring a group of over ten scholars together at the Princess Grace Irish Library in Monaco for a symposium focused on the dynamics of artistic Ireland. Following the symposium, publishing options will be explored (special issue of a journal or an edited collection).
Participants presented on relevant topics that addressed the theme. The symposium sessions were closed to the public, however, it is planned that findings will be published in the future.
Press Coverage
Irish Central, a widely read publication in North America, featured an article (Nov 2021) on the symposium:
https://www.irishcentral.com/culture/rethinking-irish-culture-princess-grace-irish-library
A welcome reception at the Prince's Palace. Speakers at the conference included scholars from Villanova University, University College Dublin, Queens University, Belfast, Goldsmiths University, the Irish Museum of Modern Art, the National Museum of Ireland, Trinity College Dublin and the Arts Council of Ireland.
© G. Luci/Palais Princier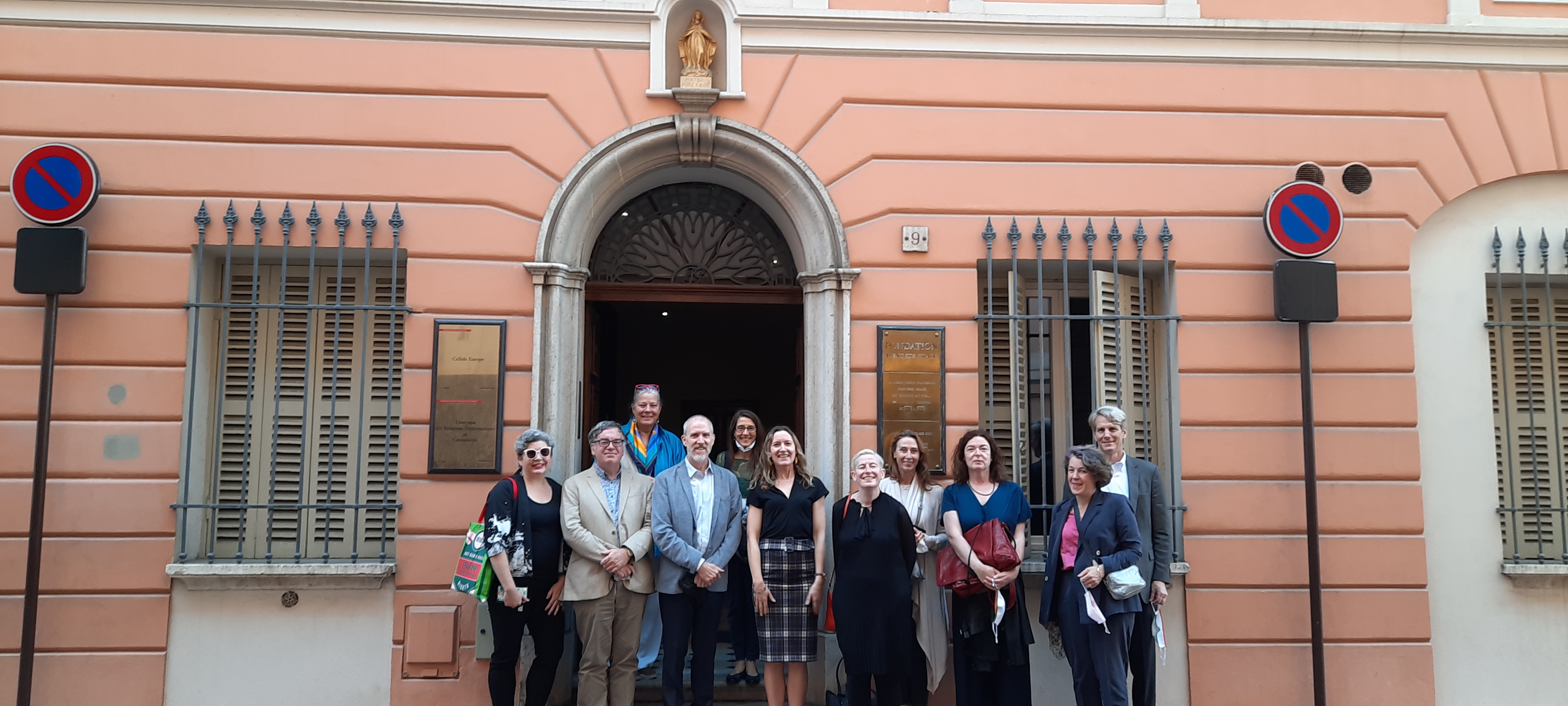 Symposium participants outside the Princess Grace Irish Library.
Click here for the symposium Press Release.