Princess Grace's personal collections
This private collection forms the heart of the Library.
Irish books (which lined the walls of Princess Grace's Palace office)
Read more

Many of the volumes are from the library of leading Irish diplomat Count Gerald Edward O'Kelly de Gallach (1890-1968), which Princess Grace purchased in the 1970s. There are also books inscribed to the Prince and Princess by former President Eamon De Valera in 1961 during their state visit to Ireland.

Irish-American sheet music
Read more

In 1978, Princess Grace acquired the complete collection of Irish-American music scores collected between 1932 and 1954 by Michael E O'Donnell from Philadelphia, her native city.
Book collections
Since the Library's inauguration, some twelve thousand books have been acquired — or donated by benefactors — including an excellent selection of contemporary authors (some signed) and works from the Irish Literary Revival period (late 19th and early 20th centuries), as well as older Irish books, imprints and collections acquired from distinguished scholars.
Key volumes on display:
The Library holds volumes of Irish works from all periods. Some first editions include rare examples of the 19th-century antiquarian and Irish Literary Revival titles.
Annals of the Four Masters (1841- 45)
A modern facsimile of the Book of Kells (donated by Sir Michael Smurfit KBE, Honorary Irish Consul to the Principality of Monaco)
Early editions of James Joyce's works, including the first edition of Ulysses (1922)
A rare 17th century atlas of Ireland
Works of art
Full-length portrait of Princess Grace by Mohamed Drisi
Paintings by Jack Yeats, Louis le Brocquy, Jack Murray and Claire D'Arcy
Bronze portraits of Oscar Wilde and William Butler Yeats by Dutch sculptor Kees Verkade
A 19th century Spanish silver Virgin font - a gift from the de Valera family
New books are added each year - contemporary poetry, fiction and drama, scholarly monographs and general works (including key reference works and leading illustrated publications) – to ensure that we cater to the modern reader as well as to the scholarly researcher.
Library collections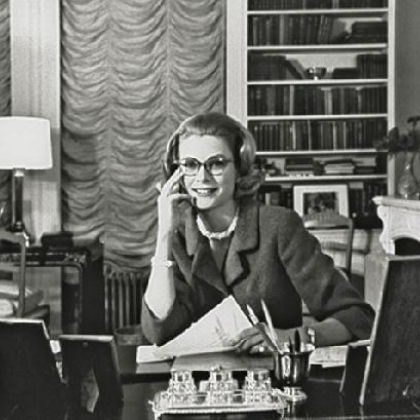 © Photographs of Princess Grace: Archives du Palais Princier de Monaco
© Other photographs: Gaétan Luci & Charles Franch Guerra, Palais Princier Monaco