A literary odyssey kicks off a collaboration between
Glucksman Ireland House (NYU) and the Princess Grace Irish Library in Monaco
Sharing the same vision to foster excellence in the study of Ireland and Irish America, The Princess Grace Irish Library (PGIL) and Glucksman Ireland House at New York University (GIH) are delighted to announce a new collaborative venture.
The initiative starts off as the library in Monaco hosts its 2023 cultural programme with the theme "Irish-American influence on literature, music and culture," and the two institutions plan to host an annual lecture alternating between the two locations. Going forward, they plan to create synergies between their respective programmes.
The inaugural event is a celebration of Princess Grace's Irish-American roots, her adopted home in the Principality of Monaco, and her love of literature.
Daniel Mulhall, the former Ambassador of Ireland to the USA (2017-2022) and Global Distinguished Professor of Irish Studies at Glucksman Ireland House for fall 2022, will give a lecture in Monaco at the Princess Grace Irish Library on May 10th.
************
Founded in 1993, Glucksman Ireland House is New York University's centre for the study of Ireland and the Irish diaspora. Renowned for dynamic programming and research initiatives, Glucksman Ireland House is the home of the Glucksman Irish Diaspora Series (NYU Press) and the Archives of Irish America.
NYU undergraduates may pursue a minor in Irish Studies and graduate students may earn an MA in Irish and Irish-American Studies. The mission of Glucksman Ireland House NYU is to foster excellence in the study of Ireland, Irish America, and the Irish Diaspora in New York and the global communities.
https://as.nyu.edu/research-centers/irelandhouse.html
Loretta Brennan Glucksman, serves as Chairman of the Advisory Board of Glucksman Ireland House NYU, which she endowed with her late husband, Lewis. Loretta has worked tirelessly to promote Irish culture and to establish strong ties between America and the island of Ireland.
Loretta Brennan Glucksman is Chair Emeritus of The Ireland Funds America, a chapter of The Ireland Funds, a global philanthropic network established in 1976 to promote and support peace, culture, education, and community development throughout the island of Ireland, and Irish-related causes around the world.
The Ireland Funds Monaco Bursaries were established to enable literary and academic writers born or living on the island of Ireland to pursue a current project during a one-month residency at The Princess Grace Irish Library in Monaco.
https://irelandfunds.org/chapters/worldwide/monaco/bursaries/
About the Princess Grace Irish Library
The library was inaugurated on 20th November 1984 by Prince Rainier III of Monaco as a tribute to his wife Princess Grace and the attachment she felt for her Irish origins. Her grandfather John Kelly was born in county Mayo in Ireland in 1847 and aged 20 years old, set sail for America.
Among the collections is Princess Grace's personal collection of 500 Irish books and over 1,000 unique Irish-American music sheets (which span from 1840 to the mid-1900s), as well as photos and art works. The library is under the ægis of the Fondation Princesse Grace with President Princess of Hanover and H.S.H. Prince Albert II as Vice-President, respectively the daughter and son of the late Princess Grace (née Grace Kelly).
People of Irish descent have emigrated and contributed to the United States for centuries – particularly from the 19th century due to the devastating effects of the famine in Ireland. Grace Kelly's own grandfather John Kelly (1847 -1897) was born in 1847 in county Mayo and left his cottage on the shores of the Leg O'Mutton Lake and set sail aboard the 'SS City of Boston' to America. The Kelly's became one of the most prominent families in Philadelphia and direct descendants still live in the area today.
Media contacts:
Princess Grace Irish Library
Paula Farquharson
Director
Tel: +377 93 50 12 25
Glucksman Ireland House (NYU)
Caroline B. Heafey
Assistant Director
+1 212-998-3953
caroline.heafey@nyu.edu
Inaugural lecture 10th May 2023 in Monaco
'Around the World with W.B. Yeats and James Joyce: a diplomatic odyssey'
Former Ambassador of Ireland to the USA, Daniel Mulhall will look back over his 44 years in Ireland's diplomatic service and reflect on his experience of telling Ireland's story through the works of W.B. Yeats and James Joyce. What do Ireland's two greatest writers reveal about Irish identity and the country's modern history? His talk will draw on a lifelong interest in Irish history and literature, and on a diplomatic odyssey that culminated in Ambassadorial assignments in Berlin, London, and Washington.
For more information, click HERE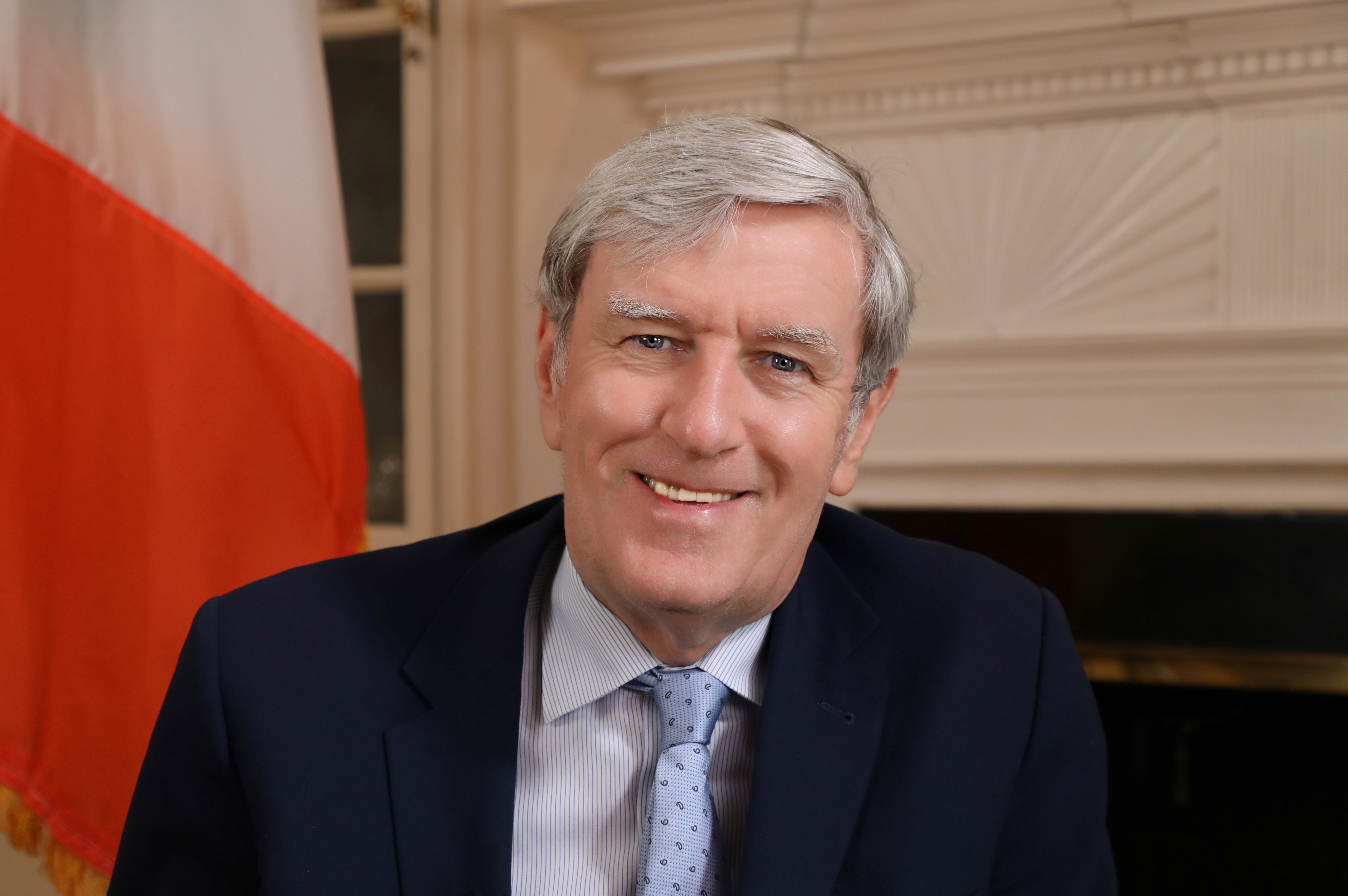 Photo credit © Marty Katz martykatz.com
Recently retired from diplomatic service, Daniel Mulhall published Ulysses: A Readers' Odyssey in 2022, coinciding with the centenary of James Joyce's masterpiece.
Ted Smyth, President of the Advisory Board of Glucksman Ireland House and former diplomat writes about Mulhall's Ulysses: A Reader's Odyssey:
"Mulhall's deployment of Joyce and Yeats around the world is a masterly example of exercising 'soft power' on behalf of Ireland. Ireland might not have a large security force, but it does have an army of fabulous writers, poets, musicians, and artists who, with our talented diplomats, enable Ireland to punch above its weight in the international arena.

Mulhall cleverly decodes all 18 episodes of James Joyce's famous book while also providing personal and funny insights. Irish Americans and lovers of Ireland will enjoy this book because it brilliantly illustrates the timeless qualities and charms of Ireland that are on show in James Joyce's novel."